OPPORTUNITY
Tacoma is facing a housing shortage brought on by excessive demand and limited supply. The underlying problem is the migrating demographics as the tech industry circle expands farther out from Seattle. Companies and remote workers are looking for a less hectic lifestyle and more affordable living costs.  The City has made efforts to help this problem with new regulations allowing for Qualified Opportunity Zones and upzoning areas and permitted developments rose 45% this year. Now with Covid restrictions relaxing and the economy starting to pick up, Tacoma is in an apartment building frenzy.  The changes and thriving market have resulted in cookie cutter & look alike ultra-dense multi-family housing units maximizing the usable space. Ship Lofts brings its own unique design to attract the buyer whose taste is for a one of a kind opportunity. A world-class design put together by a world-class team will add to Tacoma's waterfront attractions.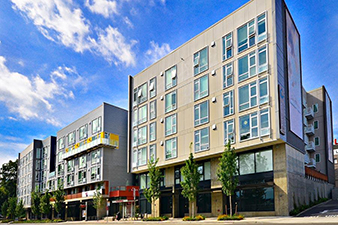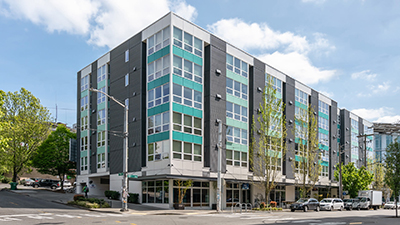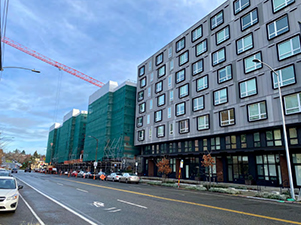 Tech companies are expanding to next major metropolitan area and with more Tech comes a higher demand for higher quality living and lifestyles. The consumer who can afford upscale housing is looking for style and uniqueness, something we intend to provide with the Ship Lofts Project.  The Pandemic has not helped the housing issue, stoppages were in place and delayed the completion of units and adding costs to cover these delays. Still due to the high demand the average time it takes to sell a house in Tacoma is 2 weeks for the top 10% of the market. The growing tech job market will ensure this demand remains high keeping the Tacoma housing market very hot.
After taking into account all the Tacoma housing data and discussing this data with several top Real Estate professionals in Tacoma, we realized there is a shortage of high quality, unique luxury living options inside the city core.  We started to look for sites to develop a multi-unit building and discovered there are many trapezoid-shaped shaped building lots which would require an architect to design a unique building with style and character.  We were introduced to the perfect shaped property with many size restrictions directly on the waterfront & next to the Museum district. It's the last direct waterfront access undeveloped plot that was available.   Our goal was to design, build, own and operate a building of historical and architectural significance.  This location is losing its industrial gritty heritage and we intend to build a building that will honor the 140+ year history and culture of bulk resources such as steel and concrete along with the marine operation built around the cargo and shipping industries.  This project will also need to fall into the "Eco Industrial" mantra.  After looking into both of these issues, we decided to address each in a unique way.  How can we build a mixed-use multi-unit residential building that combines luxury, eco waterfront live work condo units on an odd shaped property that has been left vacant for years?
THE PLAN
Taking a vacant, challenging site and creating a public improvement with an unusual design is just the beginning.  Why not use local large-scale resources to create a building that looks abstractly like a "ship"?   We started the research to find other buildings resembling a ship in design and to our surprise there were very few built.  One was a pirate ship, another looked like a cruise ship landed on top of a mountain, currently operating as a hotel.  But very few had an architecturally significant aspect to them or were built to a high quality.  Then we found it, it's called Plot #1282 in Beirut, Lebanon, funded, managed and renamed Factory Lofts by Loft Investments and designed and developed by Bernard Khoury. The building is stunning in its design and has a very similar story to tell as well. Bernard found a site that was on an old toxic rail yard. This was an area that was ripe for a new development. They approached the rail company about the property that said it wasn't a buildable site, it's an odd shape and contaminated. That wasn't going to stop this group of artists and developers from building their dream. They came up with a design that fit on the shape, capped the whole site in concrete and the units were built one floor above the parking garage. Problem solved! They got the site for a steal and started out to design Plot #1282. As per the Architect, the look of the building was designed from his abstract memory of what the US battleships looked like from his childhood when Lebanon was in a flux of war. What a fitting story and building for the site. It cost $45m USD to build the 95-unit, 9 story, 277,708.89 sq ft building. The group was very professional in our discussions and provided high resolution floor plans of the building for our review and to draw inspiration from.
This started the Ship Lofts project. (https://ShipLofts.com) An abstract ship design, mixed use multi-family residential building that's a mashup between a cargo ship, cruise liner & mega yacht. A special building is required for such a special site: a Ship on a Dock. Positioned on Thea Foss Waterway, in Tacoma WA, the building will provide a vantage point from downtown on the other side of the Waterway, that appears as if it's floating on water. A fitting tribute to the long history & heritage that built this area of Tacoma. We started by designing a shape that maximizes the site's shape with a seamless fit into the neighborhood, meeting or exceeding all the special shoreline zoning, culture and heritage goals for the revitalization of the downtown waterfront. Ship Lofts will be viewed as an iconic building sized art installation, drawing people of all backgrounds to explore and rediscover the waterway.  Being one of the final developments on the waterfront, it will need to be a keystone building of architectural significance fitting of its shoreline location, permanently tying together the design of the bridges on both sides, the heritage of the maritime industry, art/museums & boating/shipping culture.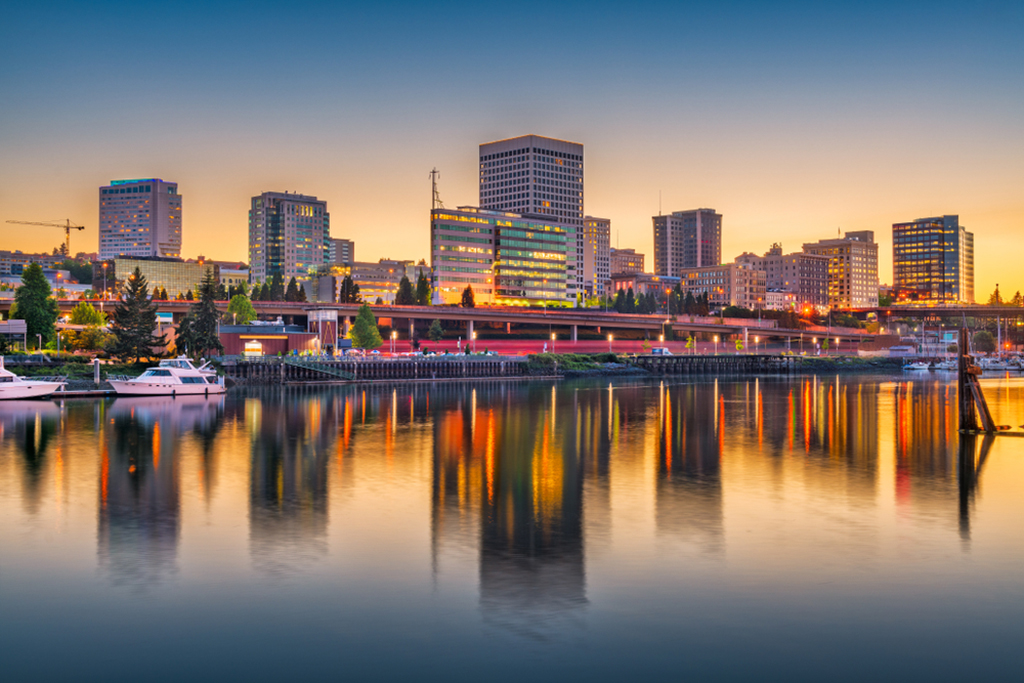 The revitalization of the Tacoma Downtown shoreline over the past 20 years has transformed it from an industrial mecca to a water & arts lover's dream destination. The elongated shaped lot, included an old dock structure over the waterway, mid right in the image above measures 56,100 sq ft in size, with a portion of the land required to be used for an esplanade it leaves the build-able area extremely narrow. It's currently being used as a parking lot, but prior to this for 110+ years the site was the home to Colonial Fruit & Produce and previously Pacific Fruit and Produce. The site has a street, railroad tracks and overpass freeway to the west Port side of the building, 330′ of waterfront, port and Mt Rainier views. To the right is the Fish Peddler seafood restaurant and to the left is the soon to be built Melanie Jan LaPlant Dressel Park. There is no housing directly in any direction, so our building obstructing views will be kept to a minimum. The property is surrounded by trails, parks, museums, restaurants and marinas all within walking distance. The site scores 69 points for walking, 76 points for biking and 100 points for water based activities!  The frontage road Dock St. leads to Ruston Way, a waterfront two lane road with miles of parks & trails that takes you to Point Ruston development where other new apartments have been built in a similar per sqft range have been built, rented or sold.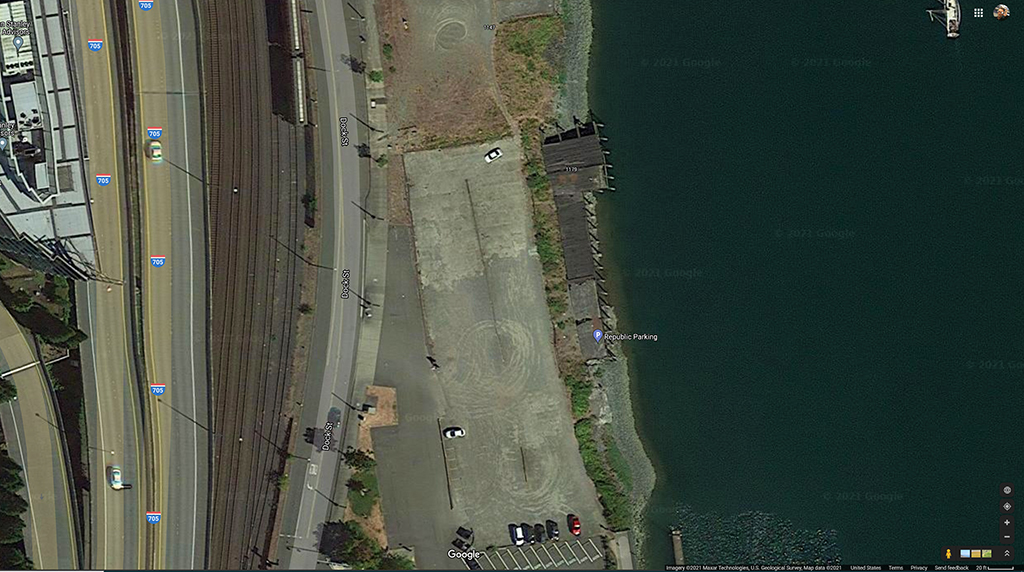 Building footprint overlaid onto site: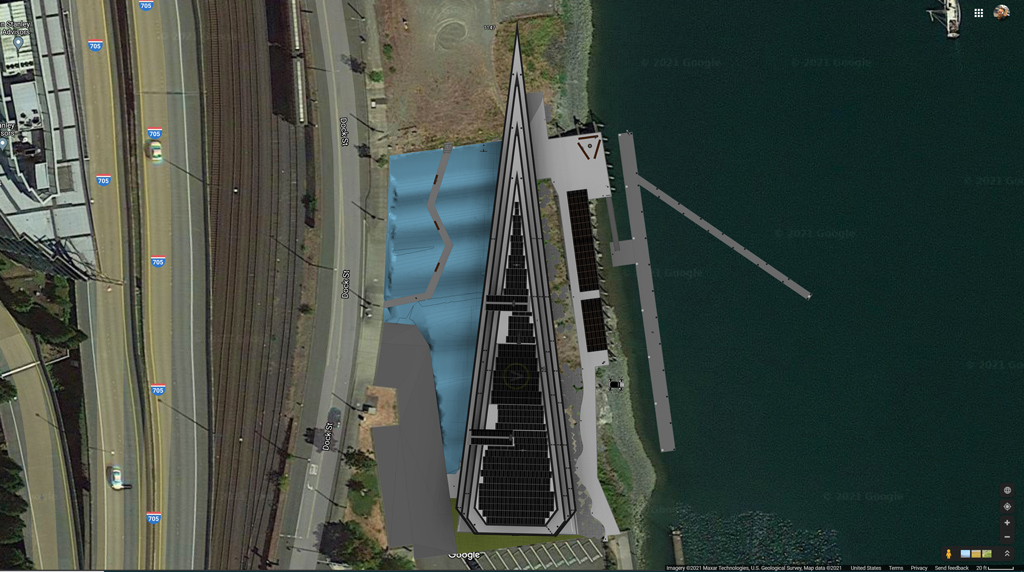 PROJECT DESCRIPTION
The Eco Industrial design passive units are carbon neutral, sustainable and an eco-friendly structure. An artistic approach will use mass timber, recycled industrial and natural materials: steel, concrete, glass, wood accents, cargo containers, all locally sourced to provide an upscale modern contemporary feeling. A timeless design, integrated in with the environment and natural surroundings to create a truly unique one-of-a-kind building for the Tacoma skyline. Hard shell on the outside: soft and gooey on the inside. Great cityscape and port views from the building will be in high demand and the view from the city will be one of wonder (is that a ship or a building?).  We intend the building to fit in culturally and historically as an area landmark with architectural significance.  Taking a raw piece of vacant land and enhancing the Tacoma maritime history and using open spaces within the building to display art, showcasing it's unique history. Creating an iconic building with eco-friendly design that was encouraged by Seattle's own Bullitt Center & with forward bow tips, the stunning, artistic feature that is the shape of a Seahawk bill.
Get up and close to cargo ships, boats, yachts and the ever growing and changing cityscape of downtown Tacoma. The Ship Lofts uniqueness will be a positive public improvement and creative addition to the Tacoma Skyline. It's an opportunity to watch the city grow into the future, but uniqueness and waterfront views will come at a premium cost.  Something fun and creative: a Controversial project: you'll Love it or Hate it. These are projects that draw on people's emotions. A destination building. There will be no need to give an address to people, residents will simply say they live in the Ship Building on the Tacoma waterfront! Working with unique architectural designs will transform your mind, inspiring boundless amounts of creativity and innovation.
Ship Lofts has brought together an A team fitting of a project such this. Olson Kundig, one of the Global Top 10 design and architectural firms, is leading the project.
Building Specifications
Mixed-use: light commercial/retail & multi-family live work condos
Lot size: 1.29 Acres, 56,100 sqft
Lot shape: front 330′ x back 170′
Building size: ~100K sqft
Height: 85′
Livable sq ft: ~60K sqft
Levels: 5
Lower Level: 10 Cabins
Loft 3 Level: 10 Lofts
Loft 4 Level: 6 Lofts
Loft 5 Level: 5 Lofts
Units: 30
Unit sizes: 1000-3000 sqft
Bedrooms: 1 & 2
Ceiling heights: 15′ 6″ Parking, 11′ Lower Level, 17′ Loft Levels 3-5, 8′ Wheelhouse
Parking spaces: 28 cars, 40 bikes
Resident Dock mooring: 4 spaces
Commercial/Retail Spaces: 1710 sq ft over the water converted cargo containers
Heating: geothermal loops, heat pump to in floor radiant
Cooling: thermal via top opening windows, large industrial ceiling fan & radiant cooling
Internally insulated concrete floors and walls on unit levels
Lighting: LED's
Management: AI based living building management system
Intelligent energy consumption and indoor air quality & thermal monitoring systems
Water: rainwater harvesting, greywater system with outflow to trees and wildflower patch
Exterior: blackened steel building structure to look like the black steel hauls & tar coated hauls from ships of the past
Interior: wood craftsmanship honoring the local sawmills and boat building
Structure: mass timber throughout
Recycled: local sourced concrete, steel, wood & glass, by companies such as Pacific Sheet Metal, Ash Grove & Nucor
Salvaged bulk and modernized nautical ship and dock items, portals, lights, dock and ship bollards, a large anchor
Waterfront: committed to ecological safe construction, habitat restoration & preservation
Longest cantilever extension on a building in WA
Exceeds all current and proposed sustainable and energy efficiencies required by Tacoma building code
Designed around Occupants
Biophilic approach, connecting people to nature with the goal of improving health, elevating mood and creativity
Live Work lofts. Large open floor plan, minimalist high-quality design to allow maximum space flexibility
Heavy duty regenerative power elevators with open top
High ceiling in garage for in-building truck deliveries
Wide hallway corridors and double wide doors for ease of access
Floor to ceiling low-e, solar charging or thermal smart glass windows along one wall for perfect light, even in the winter
High CRI LED lights allow perfect lighting for detailed work of all types
Full length balcony on all lofts and wrap around on Bow lofts
Tenant and curated artwork throughout the corridors and wheelhouse for private & public art events, minimalist high-quality design to allow maximum space flexibility
Solar powered cargo container designed retail spaces
Business quality Internet connectivity & services
Electric vehicle charging for each unit with a parking space
E-Bike charging & repair stand in a secured storage room
eVTOL vehicle landing pad on the roof deck for air taxis services and drone deliveries from companies such as Uber, Boeing, Amazon, Airbus, GM, VoloCopter & Halo. Expected to be approved by FAA in 2024.
Wheelhouse on the roof deck for entertainment and gatherings
Polished high load concrete floors throughout
Wood walls and ceilings
Marine grade quality fit & finish. Ruggedized everything for live/work
Screen shades / rails made from a black coated steel
Frameless large doors, large hinges with a porthole, lever handle ship-based doors
Slit Windows – mullions divider down the middle that matches the middle of the rail's height and size, doors open on bottom, top windows slide open
World class chef's kitchen with pantry room & wine storage
Spa quality master bathroom with a stone bathtub
4 X 100′ Resident side tie boat slips on the area's newest dock
Guest and customer boat moorings
Direct water access for kayaking & other water activities
Dock sitting area dedicated to Thea Foss
Wave shaped landscape with blue, purple & white flowers with an observation walkthrough.
Front lined fruit trees honoring the 110+ years as a Fruit and Produce distribution hub
Unique & sustainable over water retail spaces
Walking distance to entertainment, museums & restaurants
Outside your door is the Shoreline Esplanade
Multiple parks within walking distance in each direction
Goal 80% of build made from recycled materials – all new materials are post use 100% recyclable
Parans Solar Fiber Optic Lighting to darker areas of the building
Roof covered with low light solar panels
Living Building Challenge & Salmon Safe certification goals, the largest LBC residential building and the 1st LBC & Salmon Safe building in Tacoma
Deign, engineering, MEP, procurement, construction and operation using BIM with Autodesk Revit
MULTI MEDIA
All images and PC/VR experience include the below ground foundation structures.

Large images Port: B&W / Orthographic / Day / Night / Render
Large images Starboard: B&W / Orthographic / Day / Night / Render

Large images Aft: B&W / Orthographic / Day / Night / Render

Large images Bow: B&W / Orthographic / Day / Night / Render
Large images Bow Tips: B&W / Orthographic / Day / Night / Render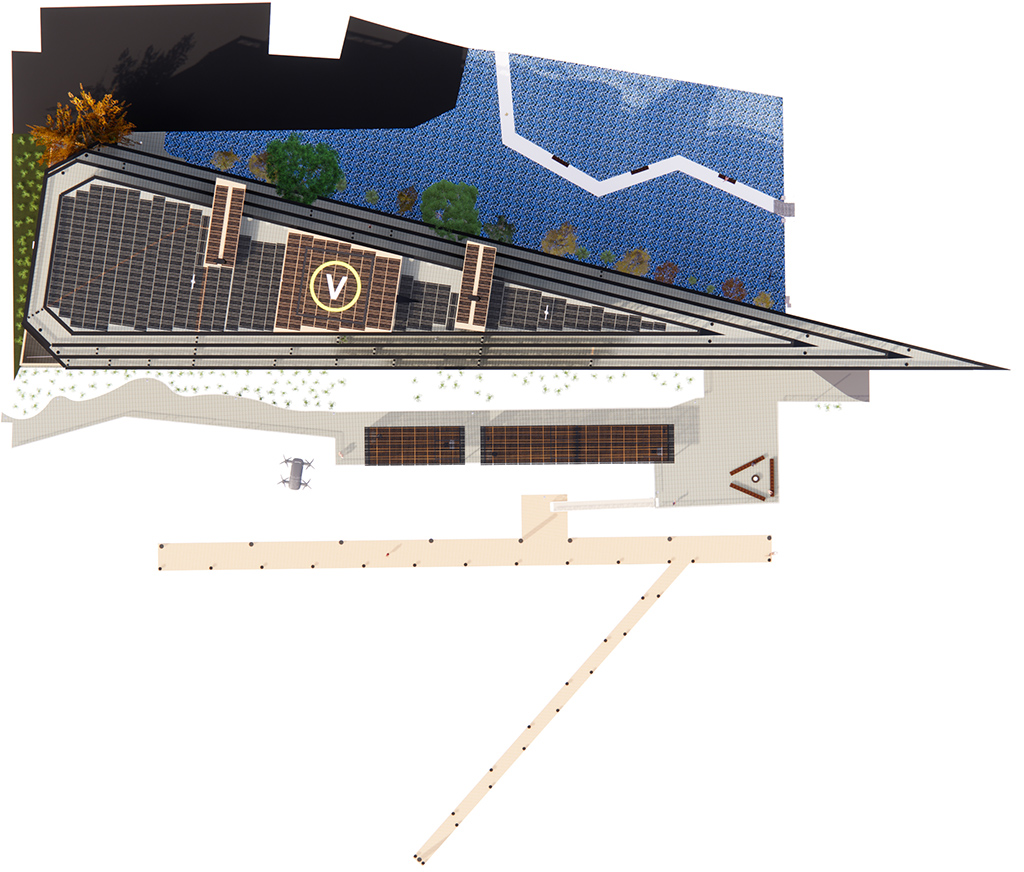 Large images Top: B&W / Orthographic / Day / Night / Render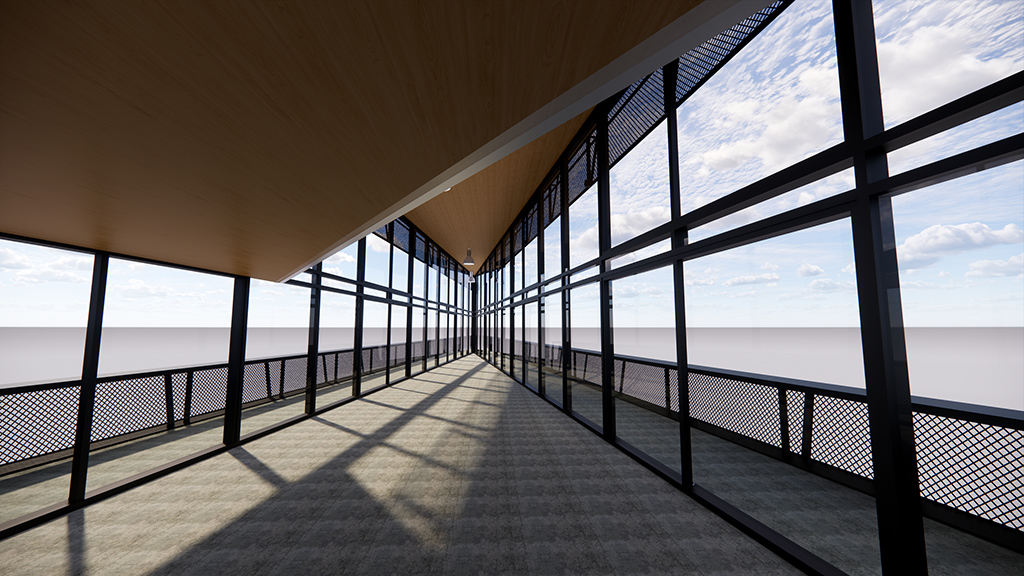 Large images Indoor Loft Raw:  Day / Night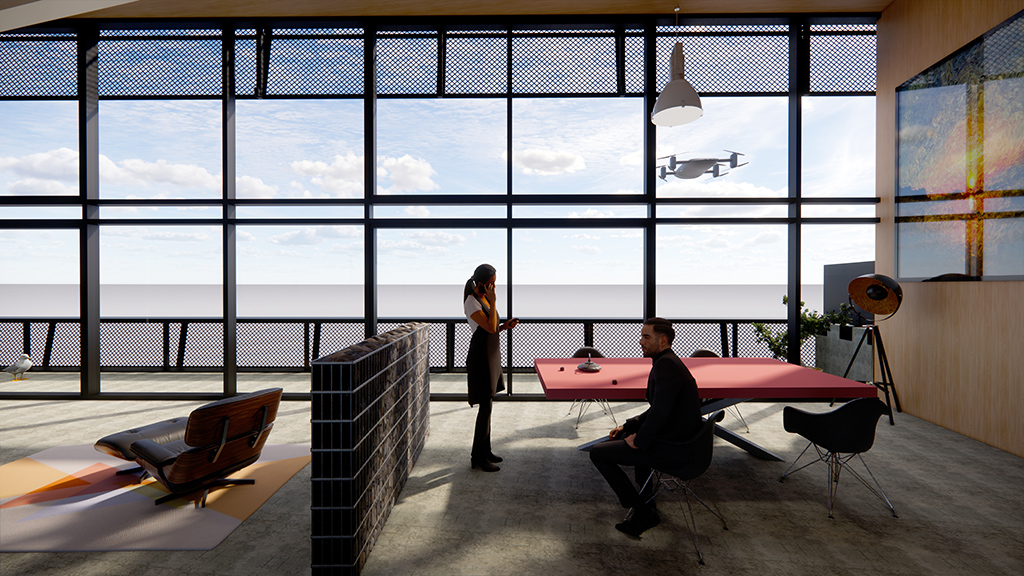 Large images Indoor Loft Unit #52 View Rendered:  Day / Night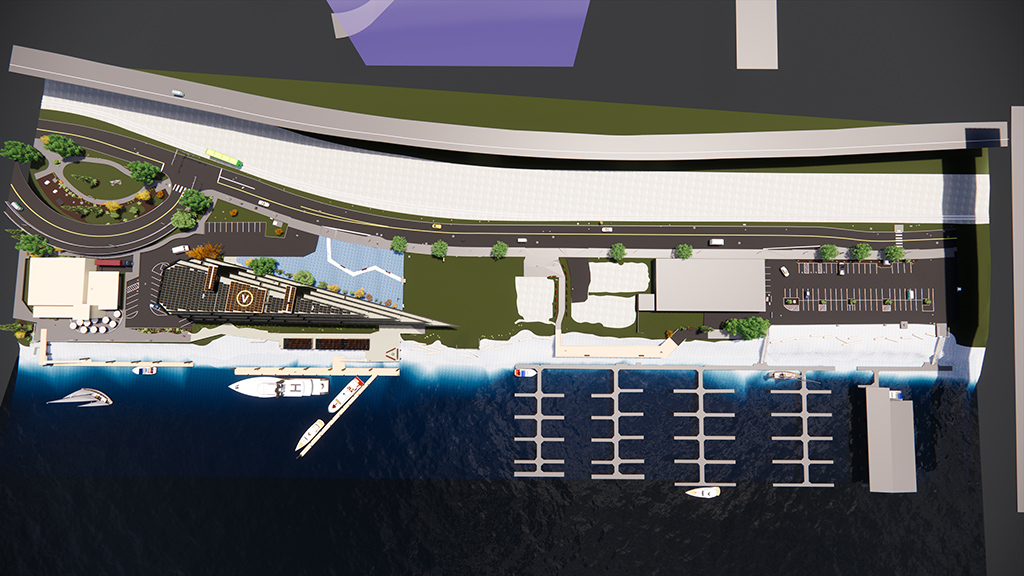 Large images 11th to 15th Dock Street survey full Renders  Day / Night
Floor plans: Foundation / Level 1 / Level 2 / Level 3 / Level 3 Mez / Level 4 / Level 4 Mez / Level 5 / Level 5 Mez / Roof deck
Download our 212 meg .exe file and explore the outside and inside the building anytime time of the day or night with an Enscape 3D virtual walk through that can be navigated on a PC or in VR
INVOLVEMENT
Ship Lofts is just one creative example of what can be accomplished with an odd shaped property that others have not been able to figure out what to build. The Ship Lofts building can be replicated to other locations with unobstructed waterfront views next to a port, industrial zone or marina. A 110′ x 330′ trapezoid or elongated rectangle shaped plot with zero setback is needed for the building's current size, but it can be larger or smaller based on requirements. Three developers have shown interest in building a Ship Lofts building on their waterfront locations.
We're currently seeking investors that would be interested in being associated with a world-class piece of architecture on the Tacoma waterfront.